Every so often, amongst all the fanfare, tent-poles, controversies and talk of box-office, there comes a gem of a film that makes those things feel all but redundant. Amit Masurkar's Newton is one such film. Masurkar's dark comedy, a scathing look at the notion of democracy in India, is layered, profound, strangely moving and simply wonderful.
Among the film's many notable qualities is its ability to offer something for everyone. On the surface it's a thoroughly enjoyable comedy (largely down to some fantastic performances) but one which is also deeply thought-provoking and leaves you with much to ponder for those willing to look. What's more, Masurkar's tight grip over the narrative and by extension, the audience never slackens. That it does this with such a stark setting and only a handful of elements at its disposal is remarkable.
Yet, above all else, it is the film's performances which bring it to life and make it soar. This is undoubtedly the year of Rajkummar Rao and Pankaj Tripathi and Newton cements that more than any of either actor's previous outings this year. The two share a crackling chemistry and some of the best interplay between two characters seen this year. After neigh on redefining the role of onscreen father figure in Bareilly Ki Barfi, followed by a far darker turn in Gurgaon, Tripathi is formidable and flawless here as military commander Aatma Singh who's worldview is constantly at loggerheads with Newton's idealism.
And then there is the unendingly bright Rajkummar Rao. What can I say about him that hasn't been said already? That he is one of the best actors in Hindi cinema today is beyond the realm of debate and this year, in particular, he hasn't tired in proving it. 2017 has been an exercise in displaying his range, from delivering a career-defining turn in Trapped – a role which only a handful of actors could have even attempted – to proving his comedic chops and entirely stealing the show as one unforgettable badass babua in Ashwini Iyer Tiwari's Bareilly Ki Barfi. Newton is undoubtedly the icing on the cake for the young actor and without a doubt my pick for the Rao performance of the year. The wonderful Raghubir Yadav and Anjali Patil are no less impressive as Newton's fellow election officers.
Newton narrates the story of rookie government worker Nutan Kumar, who signs up for election duty in a small, Naxal-controlled town in Chhattisgarh. There he aspires to run a free and fair election despite  the threat of terror, unending obstacles and clashing agendas of various parties, through which the film paints a poignant portrait of the state of Indian democracy.
The film is in many ways a character study of the eponymous protagonist who is simply one of the most interesting characters to have graced our screens in recent time. He leaves you with much to introspect over in terms of what it means to be progressive and honest in today's times.
Newton is almost arrogantly pure, naively idealistic but equally lovable in all his quirks of putting duty above all else. He simmers with glee when he sees the first voters walk into his booth and his duty fulfilled. At one point, even with guns pointed and tensions at their peak, he refuses to accept votes of those without Voter IDs. His need for process and procedure is paramount. You can almost picture kid-Newton as a young student who not only refused to cheat in school but also monitored and prohibited others from doing so. I can't imagine he was all that popular in his early years.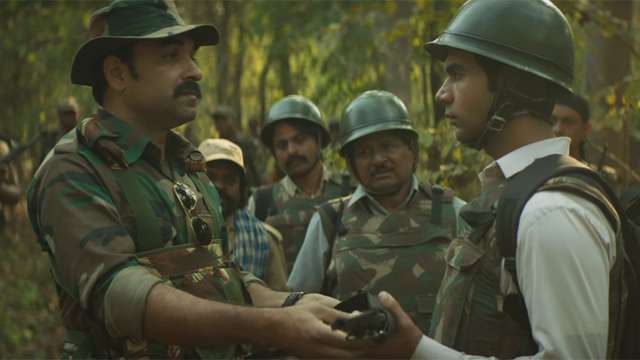 Here too, as a Government clerk on election duty he is something of an oddity. During the voting process, people at every level are driven by their own agendas of corruption, being in the spotlight or plain laziness, be it the military, media or fellow election officers. In one scene one of the election officers quips that the only reason he took the job was so he could ride in a helicopter. They each struggle then, when they come across Newton, a man who signed up solely out of a desperate passion for the wonders of democracy and doing his duty.
And yet, for all his virtue, Newton is equally naïve in his conviction and belief in change and progress. He fails to take into account the context and reality he wishes to change. He somewhere felt representative of many liberals today who are so focused on the way things should be, they fail to consider the way they currently are and how best to effect change rather than expect progress.
Through the narrative, Masurkar breaks down the concept of democracy to its most basic form, and through Newton's eyes, we witness the democratic process' ability to maintain the status quo rather than bring about change. Initially Newton struggles with the disillusionment toward voting from the locals for whom it means nothing. Then he grapples with the futility of the democracy as he comes to realise how an election will in fact do nothing to impact the lives of the locals. Finally, he must face the reality of democracy in India, of elections getting hijacked and personal gain trouncing the welfare of the townspeople who get a vote but have no voice.
Newton also features some wonderfully restrained editing from Shweta Venkat who allows most scenes to play out, a testament to how rich the material and storytelling are. Ironically, the only butchering of the narrative through forced cutting comes in the form of the interval which is particularly disrupting here. The film is equally a triumph of setting and casting as Masurkar so perfectly captures the small town millieu, making much of it feel almost documentary-like.
In the end, in a world driven by formula, repetition and playing it safe, I for one pray for more oddities like Newton, both the person and the film. Like the town in which it's set, the film is stark and yet bursting with life and is simply one of the year's best. Newton is not to be missed, I'm going with 4 stars.