Badrinath Ki Dulhania is quite simply a gutsy surprise. What at first glance, looked to be another quintessential Dharma love story, proved to be a far more ambitious film which really means business through the serious statements it sets out to make. The result is quite possibly my favourite film of the year so far given it's as entertaining as it is important, which to me are certainly the marks of a great time at the movies.
There will be those put off by its simplistic, spoonfeed-y approach, or the fact that it spread its message thick and heavy and is at times preachy, but that doesn't make it any less relevant, honest or rooted in reality. The sad part is that however two-dimensional the characters are– such as Badrinath's father, played by Riruraj Singh, who is nothing short of a Disney villain – you just cannot deny there are people exactly like this living among us. As much as it makes caricatures of certain aspects in how it approaches issues of marriage, dowry and gender equality, the funny part is we just are a society full of caricatures and cartoons who think exactly like those in the film. Yet, despite its basic approach, for the most part, it deals with some heavy themes with maturity (apart from a number of hauntingly violent steps taken by Badri that the film deems justifiable, but more on that later) and leaves you feeling warm and hopeful for a better world at it close.
The film sails on the back of its poignant narrative as well as the ever reliable chemistry of its lead pair in Alia Bhatt and Varun Dhawan, who are both wonderful in bringing their respective characters to life. BKD is also a departure from the affluent, rich-people-problems stereotype attached to 'typical Dharma love stories', as it sees the production house trying to ride the 'small town story' wave that's been increasingly sweeping mainstream cinema in the last few years with this one being set in Jhansi, UP. Whilst it is a refreshing change, this isn't to say the film isn't made in true Dharma fashion, pun intended, given its still a colourful, shiny love story between good looking people with various song sequences and plenty of family-aimed entertainment.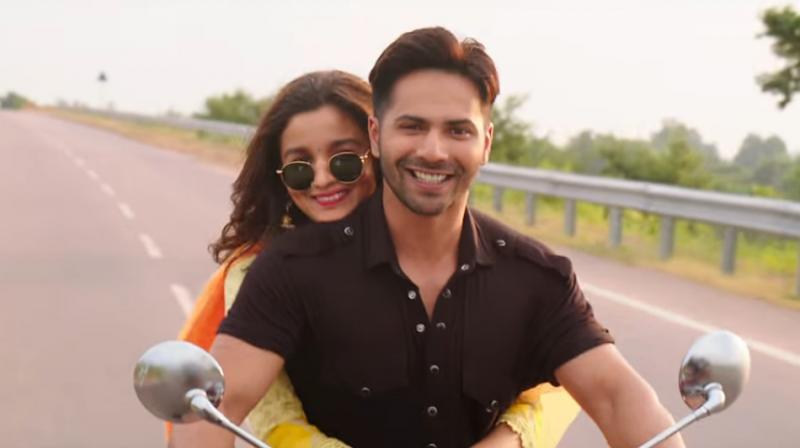 This is, however, in many ways the biggest triumph of Shashank Khaitan's Badrinath Ki Dulhania: how the many poignant, significant statements it makes are packaged into fun-filled-filmy-gloss so even those looking for a fun time at the movies aren't short changed, but instead get far more than they bargained for.
Whilst the film initially appears to be a preachy, in-your-face message fest, it slowly but surely proves to offer a great deal more with a heartfelt, relevant story that goes places you wouldn't think the film could. Whilst the first half soars in what seems like a volcano of social issues, the overlong second half is far more invested in their love story rather than the problematic family dynamics.
Badri (Varun Dhawan) is the entitled Jhansi boy from a rich household who forcefully pursues Vaidehi (Alia Bhatt), the driven, career-orientated girl, caged by a family and society that frowns on women having any sort of ambition. She initially rejects his relentless advances but soon filmy circumstances push them toward a blossoming friendship and subsequent love story, which touches on a number of key issues along the way such as controlling parents, gender equality and dowry. Not to mention our society's ridiculous obsession with marriage as the be all and end all of life. Badri is essentially the small-minded bully who is eventually changed by the power of love and it is his arc that is the both soul of the film as well as the aspect which includes some its most problematic portions.
As Vaidehi, Alia Bhatt is …well Alia Bhatt. Put simply she's just a reason to be excited to go to the movies. Varun Dhawan is one actor I'm not quite sure what to do with. He exudes differing levels of talent and promise in each film he does, the obvious lesson here being that choosing the right role – as he proves here – can really allow him to prove his chops, as Badri is certainly one of his best performances till date. What's more, due respect must be given to him for taking on a complex, problematic role of a person who is far from likeable and at times just the scum of existence, granted the film empathises with him still. Sahil Vaid as Somdev, Badri's loyal best friend proves to be the much needed comic relief that allows the film to balance heavy themes with a comical, entertaining energy consistently.
In the end, I don't exactly know what makes up 'a typical Dharma film' these days, but I can tell you after this, I sure am excited to find out, I'm going with 4 stars.
Now, with that out the way here's a more detailed discussion of the various issues the film delves into, because Lord knows its various important and problematic statements require their own dedicated discussion.
*spoilers ahead*
Claustrophobic. In one of the earliest scenes introducing Vaidehi's character, we see her in a college classroom discussing the meaning of the word 'claustrophobia'. This is an apt word as any to describe the lives of girls in similar circumstances and environments as Vaidehi. These are girls who have dreams and ambitions and goals, all of which are discouraged and frowned upon because a girl's ultimate role in society is marriage and servitude. Unless of course, you're married into a family that 'allows' you to work, however archaic that sounds.
Girls are discouraged from dreaming, as Viadehi's sister reminds her in one scene, telling her to come back down to earth and learn to 'adjust' and 'compromise' and all those wonderful words that are the very bane of our society. It is these very pressures that push girls to lower their standards and choose the next guy who walks through the door because they're being 'too choosy' or 'he's a nice a guy with a good job so why not' as if human connection in choosing a life partner is completely irrelevant. Instead, this is brought down to reductive, ridiculous metrics like 'biodata' and 'kundlis'.
What's more, all girls live under a one strike policy of sorts. If by sheer luck they are assigned parents who can somehow be convinced to see their daughter's point of view in matters of marriage, love, career et al and if, while allowing her to follow her chosen path things backfire, the daughter will be blamed for the rest of her days. In Vaidehi's case, her earlier boyfriend robbed her family and ran away, something she is never allowed to forget. Instead, it is used as a constant reminder to keep her in check to never go against her parents' wishes, her happiness be damned.
The film also provides a twist of sorts on an age old Dharma tag line, in this case being: it's all about standing up to your parents. Some parents, as we know, can be unendingly controlling, particularly towards girls. Not to mention the incessant use of emotional blackmail at the ready. A running gag throughout the film is that controlling fathers permanently have an oxygen tank on hand to play the 'heart attack card' when needed. I for one say a campaign should be started to purchase oxygen tanks for all parents who loves to play that card at the drop of a hat.
A big chunk of the film's narrative also explores the practice of dowry which – as much as urban upper-class folk would love to deny it – is still a very prevalent practice in our great nation. Between Badri's family business and Somdev's matrimonial business, we come across a number of 'ladke waale' families demanding dowry. You know, the kind of people you wish you could just reach out and slap? I found myself being taken back to that wonderful scene in 2 States where Alia Bhatt's character publically humiliates the groom at his wedding when his mother demands higher dowry. I so wished the same would take place here.
The film also makes a number of strong statements on how to fight such practices, stating that it is groom's responsibility to speak up against his family's regressive demands and set a precedent. One scene sees Vaidehi's sister finally find a guy she likes and who likes her and when he formally sends an offer for marriage, she finds out that his father's demanding exorbitant amounts in dowry. It had me wondering what a girl must feel like at that moment, when she finally feels strongly toward someone, only to find out find out his side has made heavy demands in dowry. What must that do to your sense of self-worth? It is simply inhumane.
Additionally, through the humour-filled voice opening voice over, Badri talks about how boys are considered assets at birth and girls liabilities to which the film offers up some explanation. First, if people keep following dumass practices like dowry, then naturally parents must feel the financial burden from day one of how they'll have to one day pay up at their daughter's wedding. Suffice to say our ridiculous traditions have made an innocent girl into nothing more than a walking bill that will one day have to be paid off. Second and more intriguingly, women are seen as trouble makers and home wreckers that can bring shame to the family, as Vaidehi eventually does. Yet, if you repress a person enough and essentially cage them, what choice do you leave them but to take extreme decisions like run away from home?
For all the pain and shame caused by Vaidehi's decision and the destruction left in her path, hers is still in every way a success story. A shitty society and environment forced her to take drastic measures as it was the only option left to her to be able to live her own life and anyone left paying the price in some senses deserves it. How then can you blame girls in her position for being a liability in life when you barely give them a life worth living?
Then we have Badri, who is a far from a likeable character. He is the typical, entitled alpha male – a result of his surroundings, environment and upbringing. This is the other prominent theme of the film: what makes a real man? As it quite aptly points out, being a 'real man' isn't about saving face in society, or having respect, or izzat or making others subservient but instead, it's about addressing regressive, harmful thinking wherever it arises, however close to home that may be. That is true courage, standing up to those you know are imposing their views on others.
The arc of Badri's character is in many ways the essence of the BKD. Having been left at the altar by Vaidehi, Badri is a broken man and it is in bringing this to life where the film gets on some seriously shaky and drop-dead scary territory. Badri seeks revenge for the pain caused by her, which reaches its tipping point when his evil Disney dad instructs him to drag her back from Singapore – where she is pursuing her career – and have her killed in front of the whole town to set an example. I know, scary stuff.
Badri sets out to do just that and finds her, roughs her up, kidnaps her, at one point with his hand around her neck, but fails to follow through because he still loves her. As if that justifies shit. The second he got into a car with even the smallest iota of an intention of making her pay, is where nothing really matters anymore and a line is crossed which cannot be returned from. When Badri and Somdev set out to 'make her pay', they become nothing short of the scum of our society – the kind of men who are brought to tears when a friend slaps them but are also so ready to inflict unspeakable violence on a girl just because she broke a man's heart. By inflicting any form of emotional pain, apparently violent revenge is more than called for.
What follows is a chance for Badri to come to terms with what has happened and more importantly who he is outside of his backwards environment. How the film approaches all of this is still problematic. While it doesn't normalise his violent intentions towards Vaidehi – like the films of the 90's would have  -and does openly condemn them, it also states that he can make amends and still be worthy of her. Whilst I appreciate the message of trying to make people change and see right from wrong, his actions aren't the kind of thing you come back from. Here, I found myself torn between empathising with his heartache but not being able to get over the fact that he crossed certain lines which no human should be allowed to cross and get away with.
What was also interesting is the chunk of the film set in Singapore is we seem him learn to be independent and to some extent, come of age. Away from his kingdom and city, he realises how far from self-reliant and independent he really is a result of being smothered and entitled to no end.
But obviously, all this self-realisation and love-story-building doesn't occur without a constant dose of comedy to keep things light and fun. In one of what's supposed to be the most comical scenes of the film, we see Badri being attacked on the streets of Singapore by a group of what appear to be muggers but turn out to instead be inclined to have their way with him and rape him. As they start to tear his clothes and run their hands all over his body, essentially molesting him, he is saved by his friends who run to the rescue. Anyone who has or will see this in cinemas, will hear resounding laughter all round. Whilst it was admittedly encouraging to for once see a molestation scene where a man is the victim for once, at the same time it was essentially making a mockery of male rape which is no laughing matter.
This second half of the film also delves far more into the love story between the pair. It looks at whether the two of them can face their situations and consequences of their respective actions and still have a future. One line that really stuck with me was Vaidehi's response to one of her friends who asks her if love is important to her:
"Bahut important hai… lekin izzat usse bhi zyada important hai… aur iss waqt na… na woh hamari izzat karta hai… na hum uski"

(Its very important, but respect is even more important and right now I don't have any respect for him and neither does he for me)
This leg of the film serves as an important point of growth for them both as they must face the consequences of their actions, or in Badri's case face the reality of what he's become. What's more, it was clear from the first scene that these are two people from completely different worlds and they could never really appreciate the extent to how different they were in the chaotic environment of family, marriage and society back home. Here in this far off land, they get a chance to truly understand each other. Thus, it is when they are stripped away from their cages and environment and entitlement and prisons of imposing families and restrictions are they free to see each other and connect on a meaningful level. This is a necessary level of understanding of another human being that no biodata or kundli or matchmaker can ever provide.
One of the film's best moments is where Vaidehi invites her friends, including Badri to her graduation as an air hostess in training and while she's in full swing during a training exercise we see Badri completely in awe of her being in her element. In that moment he finally realises what she is and what can be and why she did what she did. It is a way every girl deserves the chance to be looked at – as someone who has taken charge of their own life and is running their own show and soaring. It is in this moment he realises she had no choice in her actions because the small-mindedness and entrapment of society back home would have never allowed her to fly high as she is.
He takes this understanding back and finally sees his surroundings for what they are: one that elevates patriarchy and chains so many women with promise. The film accentuates Badri's gradual realisation through his relationship with his Bhabhi which is without a doubt one of the most powerful arcs to the narrative. Earlier in the film he sees her as little more than someone who brings food to his brother's office every day, but slowly an understanding sets in of what she has gone through, how much she's been repressed and what a victim of circumstance she really is.
In the end, Badri needed a whole movie's worth of events to have his eyes opened to the harsh realities of gender inequality. The rest of us don't have that luxury, but what can be done to keep ourselves in check and ensure that we ourselves aren't overlooking someone's repression is simply questioning everything. Question and second guess everything you know, everything we're taught and for anything that makes you feel uneasy, speak up.
We are in many ways a generation of people so desperately wanting to make a difference and make change without knowing how or where to start, that we forget to just look around us at the social evils at our very doorstep, or perhaps in our own households. All it takes is a few moments of strength, one phone call, one conversation, one second of standing up to a parent and it could make an infinite difference.