This isn't always the easiest list to define. It's not exactly aimed at examining what you would call the 'worst' Bollywood films of 2017. If that were the case this piece would be dominated by the slew of films typically starring the likes of the human-backflip Vidyut Jamwal, the mannequin-with-the-moves Tiger Shroff or the latest addition to the ranks of #LolWut cinema: Arbaaz Khan. Or perhaps by the endless string of painfully bad small Hindi releases that flood theatres every week which most haven't even heard of.
Instead, the purpose of this list is to discuss those films which made promises they couldn't keep, which signed cheques they couldn't cash – those which offered refreshing stories, interesting premises and electric casts and brimmed with possibility and promise that they ultimately failed to live up to. Movies which left us feeling short-changed, disappointed and in some cases downright frustrated.
As has been repeated far too often by this point, Bollywood in 2017 been greatly underwhelming with only a handful of films standing out and more duds than you can shake a star kid at. 2017 was a year of a flailing star system, unlikely underdogs, the continued box-office domination of Hollywood movies and rape-revenge dramas aplenty – we've had five this year. The net result being that we were spoilt for choice in compiling this list, so without further ado, here's our list of the biggest disappointments of 2017:
1) Raees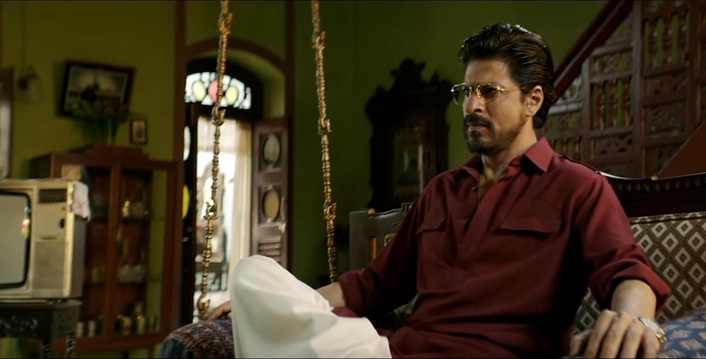 A Shah Rukh Khan-led gangster drama loosely based on a real figure could have been a lot of things, but dull certainly isn't one I would have anticipated. Rahul Dholakia's film was trapped somewhere between blockbuster and biopic. It got lost amidst telling an honest story about a controversial figure and glorifying the superstar at the helm, shuffling between larger than life entertainer and gritty crime drama. Dholakia diluted an honest vision to pander to the superstar image with a commercial flick he just couldn't justice to, resulting in a surprisingly flat and ineffective ride. Despite a strong show of conviction from Shah Rukh Khan and his crackling chemistry with Nawazuddin Siddiqui, Raees proved to be more swag than story, and just didn't have the narrative chops to keep you compelled or invested but instead just sort of coasted along.
2)Rangoon
On the topic of filmmakers desperate to pander to a mainstream audience, Vishal Bhardwaj fell into a similar trap with his highly anticipated Rangoon. In chasing commercial appeal, Bhardwaj opted for his most mainstream outing to date which resulted in a film which was as admirable as it was annoying. Despite towering ambition, strong visuals and impressive scale, Rangoon was painfully uneven and let down by a story that tried to do far too much, have depth, be entertaining and relevant.
The sad part is the film boasted of some truly fine performances, especially from its fiery lead in Kangana Ranaut who entirely stole the show with one of her most enjoyable performances to date, not to mention an always steadfast Shahid Kapoor. Somewhere buried in all that excess and unnecessary dramatic flair, Rangoon had some fine filmmaking, a heartfelt love story and made many poignant statements on war, freedom and the greater good. It's unfortunate then, that it was so sorely undone by its failures and will most be remembered for a truly terrible climax sequence involving a CGI bridge which is right up there with the year's most memorable film moments for all the wrong reasons.
3) Phillauri
Phillauri was the dictionary definition of a complete misfire. If a good movie requires all the right elements to come together seamlessly, then Anushka Sharma's sophomore project as producer was the exact opposite and a crushing waste of a strong cast, intriguing concept and characters that deserved a better film. It's a real achievement to make a movie which includes two separate timelines, a ghost, multiple love stories, a coming of age track and Diljit Dosanjh, so uninteresting but debut director Anshai Lal's lifeless execution did just that. Despite also having one of the year's most winning soundtracks and promising the kind of offbeat comedy that's dispiritingly rare, Phillauri was dull, half-baked and floated by forgettably.
4)Bank Chor
What was the point of this? While most of the other entries on this list at least offered something and made some sort of sense on paper, the same can't be said for Bank Chor – a film which warrants the question: What the hell were they thinking? How did the fun folks at Y-Films who have given us some of the most innovative and enjoyable web series, come up with ..this? From director Bumpy (real name), Bank Chor was a bank heist 'comedy' which offered next to no laughs, and despite lead Ritesh Deshmukh doing his level best to uplift the flat dialogue, the film was a sorely wasted opportunity. It does beg the question of why mainstream Bollywood struggles so much with the comedy genre and gets it right so rarely. Whatever the case may be, the fact is Bank Chor was bafflingly pointless and a whole lot of nothing.
5) Baadshaho
Milan Luthria's multi-starrer set during The Emergency was an attack on the senses and simply one of the year's worst films. Luthria has previously proven himself as one of our more talented commercial filmmakers, owning the masala genre like few others, in many ways setting the standard for swaggered up, larger than life entertainers with his Once Upon A Time In  Mumbai. But with Baadshaho he somehow managed to take an idea for a single car chase sequence and miraculously stretch it to well over two bloody hours. It can't even claim to be of those too-many-stunts-tied-together-with-zero-logic movies which are often passable. Add to that Esha Deol's turn as the human embodiment of a Barbie doll and Ajay Devgn not as much acting as he is blinking and what you get is a movie which perfectly lends itself to spoofs, memes and Vigil Idiot reviews and is the very reason Bollwyood gets a bad name.
Oh, and did I mention the film has no ending? Because yeah..it has no ending. It culminates in a 'grand' climax action sequence which it cuts away from mid-fight with no resolution. I'm assuming they either ran out of budget or suddenly came to their senses and just wanted to call it a day. You may call that a spoiler, I call it an insulting, senseless waste of time and two hours of my life I'm never getting back.
6) Simran
The only thing more aggravating than a film that gets so much wrong is a bad film which gets so much right. It somehow worsens the heartbreak as you get lost in wondering what might have been.
You don't need to be aware of the mountains of controversy surrounding the making of Hansal Mehta's Simran to know it was a film made under duress. You can clearly feel that it was a film torn between multiple people's visions and filmmaking competence as certain aspects soared, especially in Kangana Ranaut's winning performance, while others were just laughable bordering on cartoonish. Suffice to say, to call it incoherent would be an understatement.
As a character study the film – about a girl living in the US who becomes addicted to gambling and turn to robbing banks to pay off all her debt – worked well and had much to say, but everything surrounding her was a mess with gangsters who feel like they've been plucked straight out of an episode of Looney Tunes and bank robbery scenes which make you believe that you could steal millions armed with a banana. Simran was a fine and fascinating story that deserved a far better film.
7) Chef
Chef couldn't have been more flat, bland and flavourless if it tried.  Raja Krishna Menon's utterly uninspired remake of the much loved (though in my opinion highly overrated) Hollywood film was entirely devoid of conviction and lazily written. What's sad that it had all the right elements in hand and was a story that perfectly lends itself to an Indian remake and solid casting in Saif Ali Khan, but who proved to be wholly unremarkable and largely down to the lacking material.
Add to that the fact that there wasn't even an iota of chemistry between any of the characters in a film centred on a father-son relationship which felt forced and hollow. Also, you don't see the damn food truck until an hour and ten minutes in and the fact that, for a film about food it gets your mouth watering for all of 4 seconds. Not to mention that it features one of the most annoying onscreen child characters who was spectacularly irritating to watch. In the end, Chef will be remembered for little other than serving as a severe blow to Saif Ali Khan's already shaky career.
8) Jia Aur Jia
Some films should never have been made. Bollywood in 2017 gave us Jia Aur Jia which continuously swung between unintentional comedy and straight up enraging, given it was so unbearably shabby it made most saas-bahu dramas look like Shakespeare.
Aside from the fact that it was universally terrible, what was particularly aggravating is that it single-handedly set back the cause of female buddy films – which Bollywood makes painfully few of – by years. You can almost imagine producers batting away genuinely good scripts in the same genre based on the glorious failure of this shiny addition to the films-to-enjoy-when-you're-drunk list. My personal take is that the film is actually a murder mystery given. It's a genuinely mind-bending mystery as to why two such talented actresses would resort themselves to this drivel, I can only assume its at the threat of murder.
Special mentions: Sarkar 3, Indu Sarkar, Lucknow Central, Naam Shabaana, Haseena Parkar, Raabta, Toilet: Ek Prem Katha